Is our God big enough? Theologically, yes. But because I cannot wrap my human mind around Infinity, my image of God is, frankly, marred. That's where faith comes in because it is in the Unseen, the unfathomable.
My faulty, puny image of God causes me much unnecessary anxiety. I am presently faced with a choice about an upcoming trip. Most people would be envious of our destination. It dropped into our laps practically for free. We have been scrimping and saving in bits and pieces for over a year to have spending money. If I miss it, I will be throwing away a rare opportunity and deeply disappointing the person who loves me most.
But I have a chronic illness that for some reason is aggravated by travel. Thanks to the limitations of traveling via frequent flier miles, this trip has a rigorous start: 3 days and 4 cities to get there. My gut tells me I'm gonna bonk. My husband tells me I'm setting myself up to fail. My God tells me that if I miss Plan A, he has Plan B ready and waiting, full of favor and grace and perhaps even more glorious than Plan A.
Please allow me to wax theological for just a moment: We can never get around God's will. But He has what I believe theologians call a "perfect" will and a "permissive" will: Plan A and Plan B.
In the Garden of Eden, Adam and Eve missed Plan A. They sinned and ruined it. Plan A was for them to populate the earth with good, kind people who had never fallen and to set up God's glorious Kingdom full of light and love right on this planet. That didn't happen.
But in my humble opinion, Plan B, set up from before the beginning of time, is even more glorious. God became flesh and dwelt among us. He died a criminal's death for you and me: By one beautiful, horrific sacrifice Christ atoned for all men, for all sin, for all time. God's Son was raised again to sit at the right hand of God and will one day come again to defeat evil once and for all. He will rule with power and set up that perfect Kingdom on a New Earth where pain and loneliness and decay and suffering are demolished forever. God has revealed, and will continue to demonstrate to a watching universe who would never have known otherwise, His infinite love and kindness by the death, resurrection, and ascension of His Son.
OK, theology lesson over.
Now back to my trip -- and any decision you may be facing. Many years ago, I took a trip that made me so sick that I could have died. Other trips have left me confined to bed for months. Some have had no ill effect at all. (You can understand why I feel like I'm playing Russian Roulette here. Don't want to miss God's will on this one!)
What if I had discerned and chosen Plan A and not traveled at the wrong time on the wrong trip that made me so sick. What if I had never made some of the other choices that led to the development of my illness. I could have had a much easier life. But I never would have had the depth of compassion and understanding that I do now. I wouldn't have the ability to look across a room and see the pain that someone was hiding inside. I wouldn't have insight and hope to offer others who have suffered. There is no way I would know God in the intimate tender way that He has revealed Himself to me, and I certainly wouldn't be writing this blog. I believe I would be of much less use to God in general.
So maybe Plan B
is Plan A
after all. Maybe we're not big enough to screw up God's will for our lives. Maybe it all does turn out for the best even if it doesn't feel like it in the moment. Maybe the world is safe because God has it all under control. Maybe I am safe. Maybe, even if the worst happens, I'll be glad about it one day.
Maybe God
is
big enough. And maybe you and I can both dare to believe it!
With love,
Come visit us at
warrenfamilylife.com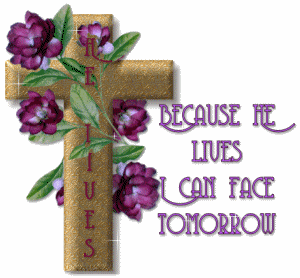 SpiritualGraphics.com